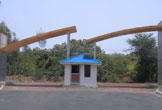 About Project
The project is spread over 50 acres of land at Atchuthapuram, Visakhapatnam, Lorven's Fortune Club offers 500 plots in an oasis of breathtaking beauty and natural splendor. The landscape around Lorven's Fortune Club is dotted with country charm, friendly people, interesting delightful gorgeous vistas and exotic fruit-bearing trees.
The area boasts beautiful residential neighborhoods, reputed establishments, first-class recreational facilities, and wide-open spaces; a successful mix of residential, commercial and rural development flavor. It is also home to many fine elementary and secondary educational institutions. With its centralized location, it offers easy access to other major business and commercial hubs of the city.
Pollution-free, the area bristles with the space and tranquility you crave for, away from the hustle-bustle of city's cacophony. Provides a wonderful opportunity to detoxicate and de-stress yourself. It nourishes your system with the energy you need to put yourself back on the right track. You can bird-watch, count the birds, gaze admiringly at the numerous fruit-bearing trees, rollick lazily in the hinterlands, and gawk at the innumerable historic attractions the area abounds with. Else, you can just ride a pushbike or fly a kite or do nothing at all, but just sit and soak it up.
Lorven's Fortune Club creates the right atmosphere for families. The warm, intimate and unique setting is the perfect antidote for all your problems that comes with modern hills.
Features & Amenities
All Black top Roads
50 feet and 33 feet wide roads
24 hours water facility
Underground Drainage System
Underground electricity
Over head Service reservoir
Avenue Plantation
24 hours Security
Public utility park
Children's play area
Community hall
Health club
Swimming pool
Club house
Tennis court
Basket ball court
Security wall around the venture
Project Highlights
Special Economic Zone (SEZ) spread over 11,000 Acres
Bandrix Garment factory (Apparel Park) in 1500 Acres – a joint venture with Sri Lanka Government with the capacity of 60,000 employment
HPCL (Hindustan Petroleum Corporation Ltd.) spread over 2,500 acres
Naval Base Projects
Parawada Pharma City
NTPC
Pudimadaka Beach
Panchadarala, a popular tourist place
Kondakarla Ava a tourist place
Proposed International Airport